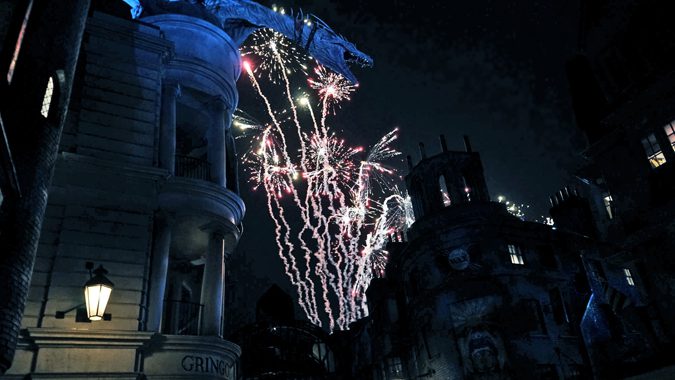 The Universal Orlando Florida complex has two theme parks, Universal Studios and Islands of Adventure, several exclusive hotels, an entertainment venue that really rocks at night called CityWalk with restaurants, bars, dance clubs & shops, plus a huge AMC Lowes Universal Cineplex 20.
Universal Studios was the first venue to open. Serving up entertainment and thrill rides from television and movies, it has something for everyone. The little ones have their own area that includes Barney Live on stage, a pint size roller coaster, and a water and ball factory. For the movie enthusiasts there are really great movie themed rides such as Men in Black, Disaster, Revenge of the Mummy, Terminator 2 3d, Twister and Transformer. The kids also have the own themed movie rides (that adults also like0 such as Despicable Me Minion Mayhem, E.T. Adventure, Kang & Kudos' Twirls n Hurl, Shrek 4D. The Simpsons Ride and the Woody Woodpecker Nuthouse Coaster.. The more recent movie attraction and in fact whole new component of the park is the Wizarding world of Harry Potter – Diagon Alley where shops and food and even a fire-breathing dragon entertain you. It is a large park (as is all Orlando area attractions) which means there is a lot of walking to do.
Scooter Rentals at Universal Orlando
For those who could benefit from mobility assistance or just want to conserve energy for their nighttime entertainments, Orlando scooter rentals are welcomed. To rent a scooter, mobility scooter, electric wheelchair, electronic convenience vehicle, ECV, for Universal Studios all you need to do is make a reservation either online or by telephone and it will be delivered to your hotel, resort, timeshare, villa direct or even campground. Scooter Vacations is the only company that offers six different scooter models to choose from (and three will fit in a car trunk with a weight capacity of up to 450 Lbs and our luxury models handle up to 550 Lbs.
If you are not staying at a hotel on-site at the theme park, a transportable scooter rental is very important and even if you are on-property, a scooter that will fold up and fit in a trunk is a great choice if you plan on visiting other theme parks or Orlando area attractions while on vacation including shopping malls etc. A scooter that folds-up or easily disassembles and fits in the trunk of your car, a rental car, taxi, van etc. will be greatly appreciated if you want to dash off for a shopping trip at one of the great designer outlet malls or a dinner show etc.
With lightweight yet sturdy designed and advanced engineered to provide 12-15 hours of daily theme park use battery power scooters make Scooter Vacations the number one luxury mobility scooter rental company serving Universal Studios and all venues in Orlando. Ensure you have the best for your Orlando Florida Universal Studios vacation.
Benefits of Renting Scooters from Scooter Vacations
Free Delivery for 3 day or more rental
Delivered directly to your hotel, timeshare, resort, or private residence within a 10 mile radius of the theme park area.
The only scooter rental company in Orlando to provide full theme park day ride times via our upgraded, reengineered, batteries
Will come INSIDE the park to service you
24 hour customer service while you are on your scooter
Telephone reservation assistance from 6 am to 11 pm, 365 days a year.
Six different models to choose from
Upgraded fast battery chargers – charging scooters from flat in 3-5 hours (depending on the weight capacity)
Universal Orlando Wheelchairs vs. Our Scooter Rentals

If you are planning to visit Universal Orlando and are considering renting a wheelchair from the Park, an electric wheelchair from Scooter Vacations may be a much better choice:
Mobility: Our electric wheelchairs (ECVs) are self-propelled so you won't need to rely on others to assist you.
Wheelchair weight restrictions: Universal's wheelchairs have weight restrictions (about 350 pounds). Our electric scooters can facilitate more weight and the batteries last all day.
Wheelchair availability: Universal Orlando wheelchairs are available on a first-come, first serve basis. On busy days, they sell out. Book an electric scooter with Scooter Vacations and we guarantee availability.
Park Hopping: If you plan on park hopping (visiting parks other than Universal in the same day), you'll need to return your wheelchair and rent a new wheelchair at each park if you rent from that park.  Rent from Scooter Vacations and your scooter stays with you all day!
Universal Studios FAQS
Orlando Scooter Rentals
Scooter Vacations offers rental electric mobility scooters for use throughout Disney and Orlando theme parks including:
All other Orlando theme parks