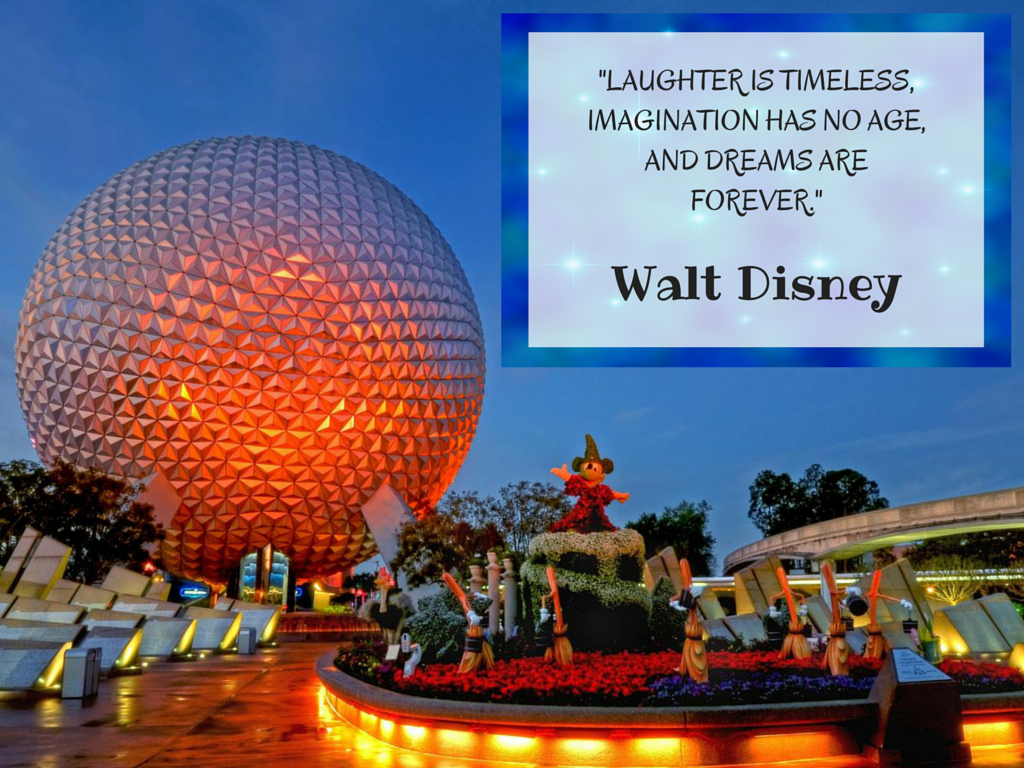 EPCOT was the second Walt Disney World theme park opening exactly eleven years after Magic Kingdom on October 1, 1982. It is more than doubled the size of Magic Kingdom and is approximately 300 acres.
Most people don't know that EPCOT stands for experimental prototype community of tomorrow the city envisioned by Walt Disney himself. You can still see the original model of EPCOT when writing the Tomorrowland transit Authority previously known as the People Mover in Tomorrowland at Magic Kingdom.
Two entrances to Epcot. The main entrance is of course the front of the park when you see spaceship Earth otherwise affectionately referred to as the big golf ball. When you go to the parking gates if you have a handicap placard for your car you follow the blue line and will be directed to special handicap parking which is closer parking. D regular main parking area you will park and then be directed to the tram which takes you to the entrance of the park. The second entrance is between England and France and referred to as the international gateway. For guests staying at the EPCOT resorts which are the Disney dolphin, the Swan, the Boardwalk, the Yacht club, and the Beach club, they can either walk to the International Gateway entrance to EPCOT or take the canal boat system or of course ride their mobility scooter if they have one they have rented for their use during their vacation.
If you were staying at one of the other Walt Disney Resorts that are not one of the EPCOT resorts, you will either use the monorail or the buses to get to the park. The monorail it Drops off visitors right at the front entrance to Epcot and the buses are just a little further away.
Just like all Disney theme parks, once you are at the actual park entrance, those people carrying bags, backpacks, and purses have to go through the security checkpoint. After you pass through security you then get to the actual entrance gates where you now can use your Magic band for entry or a ticket.
After passing through the entrance gates you have the perfect Photo spot for taking the picture was spaceship Earth a.k.a. the big golf ball, right behind you. It is also the first attraction you come upon as there is a ride inside spaceship Earth. You get on moving carriages and right up and around to the top of the inside of the spear and then come back down anyone can do this ride. Once you exit the ride there is lots more to do and say with different video games interactive games virtual games and a way to even send an email to yourself other picture that was created when you were on the ride at no charge.
Future World
Right behind spaceship Earth you come upon interventions based in interventions west. Inside each of these pavilions are many attractions which are very interactive. This entire area is called a future world which also houses great attractions such as Mission space, Test track, the Seas with Nemo and friends, and Soarin, to name just a few
Something that is fun to do and free this is stop by Club cool by Coca-Cola where you can try different flavors of soda from different countries. Adjacent to a club cool is also the character spot where you can go in and take pictures and great settings associated with each of the different famous Disney characters.
World Showcase
Moving past future world you're on to the world showcase. There you can visit 11 different pavilions that represent 11 different countries. These civilians are primarily staffed by citizens of the respective countries. So you truly do get a flavor of each of the individual countries. The countries are: Mexico, Norway, China, Germany, Italy, United States, Japan, Morocco, France, United Kingdom andCanada.
Each country has its own unique dining experience typically offering both lock up fast service our reservation restaurant service. For and since Japan has both a sit down sushi restaurant and a walk up fast food sushi restaurant as well as a hibachi restaurant where they cook a meal in front of you on the hot grill.
There are two annual events at Epcot that are fun for the whole family. In the spring they have the home and Garden show and in the fall they have the food and wine festival.
Also there is always the fantastic Christmas celebration with the candlelight processional. School and church choirs from around the US are invited to come sing and a guest celebrity narrates the story of Jesus Christ birth.
Mobility Electric Scooter Rentals at EPCOT
At EPCOT you have two choices which are to either rent inside the themepark or from an outside Orlando scooter rental company. If you choose to rent from Disney World you must rent the scooter from inside each of the individual theme parks. Since they're provided on a first-come first-served basis and you may not reserve them in advance, it is a good idea to consider reserving your own Orlando scooter rental.
If you do plan on renting inside the theme park you want to get there very early as they do tend to sell out quickly. If you're planning on park hopping, which means going from park to park in one day, and you rented it from inside the park, you will need to return your scooter at the park you rented from and pick up another scooter at the next Park you go to. You must keep your receipt to do so however you are not guaranteed to get one. It is only if they have one available. And once again you cannot reserve scooters from inside the theme park in advance.
All Orlando scooter rentals can be used at the theme parks. You are not limited to just renting one from the actual theme park. To rent a scooter, mobility scooter, electric wheelchair, electronic convenience vehicle, ECV, for any Disney World theme park, all you need to do is make a reservation either online or by telephone and it will be delivered to your hotel, resort, timeshare, villa direct or even campground. Scooter Vacations is the only company that offers six different scooter models to choose from  and three will fit in a car trunk with a weight capacity of up to 450 Lbs and our luxury models handle up to 550 Lbs.
If you are staying on property at one of Disney World's resorts your scooter transportation will either be via bus boat or monorail unless you brought your own car and then you may want to consider a portable model so you can use your car or the Disney transportation.
Depending on which resort you're staying at will determine the types of transportation available to you. Each Disney bus takes 2 to 3 scooters at a time. The bus driver simply Rolls out a ramp and you ride right onto the bus. The monorail is also similar where they have the middle carriages reserved for scooter riders and the attendance Will place down a ramp for you to ride on and off the monorail.
Scooter vacations scooter rentals provides 12-15 hours of daily theme park use battery power. In addition, Scooter Vacations is the number one luxury mobility scooter rental company serving Walt Disney World and all venues in Orlando. Ensure you have the best for your Walt Disney World vacation.
Benefits of Renting Scooters from Scooter Vacations
Free Delivery for 3 day or more rental
Delivered directly to your hotel, timeshare, resort, or private residence within a 10 mile radius of the theme park area.
The only scooter rental company in Orlando to provide full theme park day ride times via our upgraded, reengineered, batteries
Will come INSIDE the park to service you
24 hour customer service while you are on your scooter
Telephone reservation assistance from 6 am to 11 pm, 365 days a year.
Six different models to choose from
Upgraded fast battery chargers – charging scooters from flat in 3-5 hours (depending on the scooter model)
Epcot Wheelchair Rentals vs. Electric Scooters

Visiting Epcot? If so and you are considering renting a wheelchair from the Park, an electric wheelchair rental from Scooter Vacations may be a much better choice:
Mobility: SV's electric wheelchairs (scooters) are self-propelled and last all day so you won't need to rely on others to assist you.
Epcot wheelchair weight restrictions: Epcot's wheelchairs have weight restrictions (about 350 pounds). Our electric scooters can facilitate more weight.
Wheelchair availability: Epcot's wheelchairs are available on a first-come, first serve basis which means that they can can sell out (no availability). Book an electric scooter for Epcot with Scooter Vacations and we guarantee availability.
Park Hopping: If you plan on leaving Epcot and visiting other parks or attractions in Orlando, you'll need to return your wheelchair at Epcot and rent a new wheelchair at each park you visit.  Rent from Scooter Vacations and your scooter stays with you all day, whether you stay at Epcot or head to other Orlando attractions!
EPCOT Accessibility FAQS
EPCOT and Disney Scooter Rentals
Scooter Vacations offers rental mobility scooters for use in EPCOT, Disney and throughout Orlando theme parks.