400 lbs Capacity – Bus, Boat & Monorail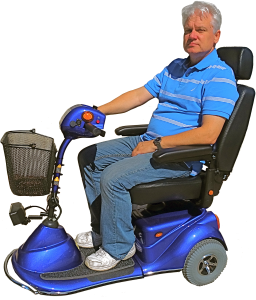 The Wish is truly your wish come true for those staying on property at Disney World or Universal Orlando and using the boats, buses and monorails.  It has a luxurious wide captain's seat and handles up to 400 lbs capacity.
Watch our In Action video of how easy it is to ride around and all the features this sweet-ride has to offer (scroll down and see the Wish "In Action " video on the right side of this page).
The Wish is a luxury class scooter rental with it's large batteries, captains seat and a 12-15 hour theme park day ride time.  You can charge the Wish in 5 hours from dead flat with our upgraded fast battery charger (no additional cost to you of course).
We always recommend you bring your charger with you to the theme park just in case you have more fun scooting around than riding the rides!  Just plugging in for a hour during a lunch or dinner can give you back 20% of your battery power.
The Wish has a nice size front basket and it's own key on a coil wristband for easy keeping.  Other special features are:
Large Headlight
Left and Right Turn Signals
Rear Taillights
Side Armrest Mounted Reflectors
Front and Rear Protector Bumpers
Carpeted Base Floor
Fully Adjustable Steering Column
Seat Adjustment Forward and Back
We have 24 hour customer service while you are on your scooter and it is always a Scooter Vacations person that answers your call, no matter the time.  If it is 3 in the morning the on-call person will wake up and take your call!  No other scooter rental company offers this level of service.
If you want that extra luxury and/or a little bit more weight capacity (up to 400 lbs) the Wish is for you.  Rent the Wish to make your vacation wish come true.