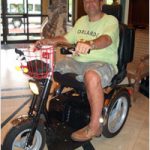 My husband, Scott, took his VERY FIRST VACATION BY HIMSELF SINCE HE LOST HIS RIGHT LEG ABOVE THE KNEE IN 9/11. This was HUGE for him. Our daughter is going to school in Tampa and was coming over to Orlando to be with him. He was in the middle of a deep depression and hadn't been away by himself since that fateful day.
Unfortunately, Scott's scooter broke down in Orlando so I went searching for a company to rent one from and the one I called first seemed wonderful when I called and confirmed they would be able to get him a scooter first thing in the morning and advised they would call me back with all the delivery details. WHAT A RELIEF, UNTIL…they called back AFTER 5:00 PM SAYING SORRY WE WON'T BE ABLE TO HELP, BUT sent us TO ANOTHER COMPANY "THEY — USE ALL THE TIME". I called that company ASAP– (it was after 5 pm now) and even though it was after hours and he was closed, the gentlemen answered the phone while driving home — heard my problem about the first company and being referred to them and was assured DELIVERY to the hotel by 9AM the next morning and even offered to help my husband get his broken scooter back to the airport for his departure when they picked the rental back up. How NICE I thought! WOW.
Next morning at 9:30 am I get a phone call from my husband who had been waiting in the lobby for a half an hour and NO SCOOTER– thinking they were only running late, I gave them a call and was told "SORRY, SOMEONE CALLED OUT SICK TODAY AND WE CAN'T DO IT!
Scott was depressed and ready to just come home and our whole family was devastated for him and FURIOUS at the scooter rental industries lack of professionalism and commitment to the handicap community in Orlando.
I just had to find something for Scott. This just couldn't be happening to a guy who did what he did to save others. Then I found you, MY ANGELS, Scooter Vacations, who deserve to be recognized for what you did! Your staff went out of their way to help out a disabled hero at the last minute plus have something no other scooter company has in a scooter type that just might make a handicap person feel alive and special. You adjusted your delivery schedule and got a scooter to my husband within 45 minutes! And what a scooter it was! For my husband who also lost his brand new Harley Davidson Motorcycle on 9/11 in the wreckage, the scooter they got to him fulfilled his wildest dreams! It looks like a Harley [The Dream Model]. He said for once he didn't feel like people were staring at his missing leg but rather at his great looking scooter! His spirits soared for the FIRST TIME since 9/11.
If your interested I will complete Scott's story… He wasn't a fireman, or a worker in an office, but a union carpenter who was nearby on a job site and saw both planes hit each of the towers. He and two of his co-workers, one was his best friend since elementary school days, heard the emergency calls and one of them was for a woman in a wheelchair that was trapped and since my husband stopped every morning to get his cup of coffee from a woman who worked there and was in a wheelchair, Marie, they just knew it was her and went in to get her out which they did. The last thing my husband remembers is following his two friends going back into the building to help others and then waking up in a hospital 2 months later, with a leg amputated. He and his friends re-entered the building when it fell. He ended up UNDER 8 FEET of metal and concrete, it took them 8 hours to find him and get him out. They couldn't pull him out because his leg was lodged under a steel beam. But worst of all he lost his best friend and 10 other union members. He has been through years of rehab, survivors remorse, and going from an extremely independent person, to having to rely on others and his best friend for life gone.
His Orlando vacation, because of the Dream scooter, lifted his spirits, made him feel independent again, like he was on his Harley, and now he wants a Dream to use at home!