275 lbs Capacity – Car, Bus, Boat & Monorail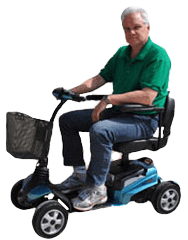 The Dart is the four-wheel version of the Snap.  It has a 12-15 hour theme park usage ride time for up to 275 pound capacity and has the industry standard 17 inch wide seat.  It is easily portable and the batteries can be charged alone or along with the scooter. It fits in the trunk and on boats, buses and monorail.
Watch the video of how easily it is to ride around and adjust it in our In Action video.  For those who might transport it, watch our Fits into a Trunk and Assembly video's.
All of our scooters have a nice-size front basket, headlight for your nighttime riding, upgraded batteries (standard batteries just won't do) and upgraded fast battery chargers (no additional cost to you, of course).  You can charge the Dart in 3 hours from dead flat.
We always recommend you bring your charger with you to the theme park just in case you have more fun scooting around than riding the rides!  Just plugging in for a hour during a lunch or dinner can give you back 30% of your battery power.
The Dart has it's own key and comes on a coil wristband for easy keeping.
We have 24 hour customer service while you are on your scooter and it is always a Scooter Vacations person that answers your call, no matter the time.  If it is 3 in the morning the on-call person will wake up and take your call!  No other scooter rental company offers this level of service.
If you need a little bit more weight capacity (up to 275 lbs) and/or a four wheel model, rent the Dart.  You will be glad you did!